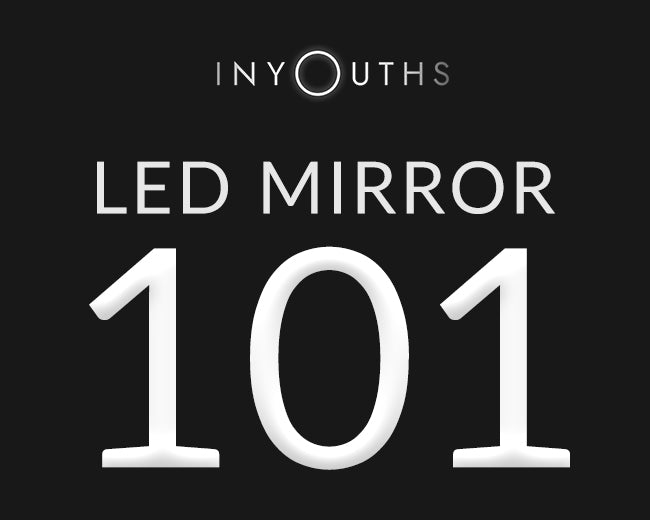 LED MIRROR 101
Beginner's Guide to LED Mirror
Whether you just get interested in having LED mirrors in your home or working in the related industry, we've put together this comprehensive guide to help you understand everything you need to know about LED mirrors, from their basic functions to their various styles and buying considerations. Let's get started!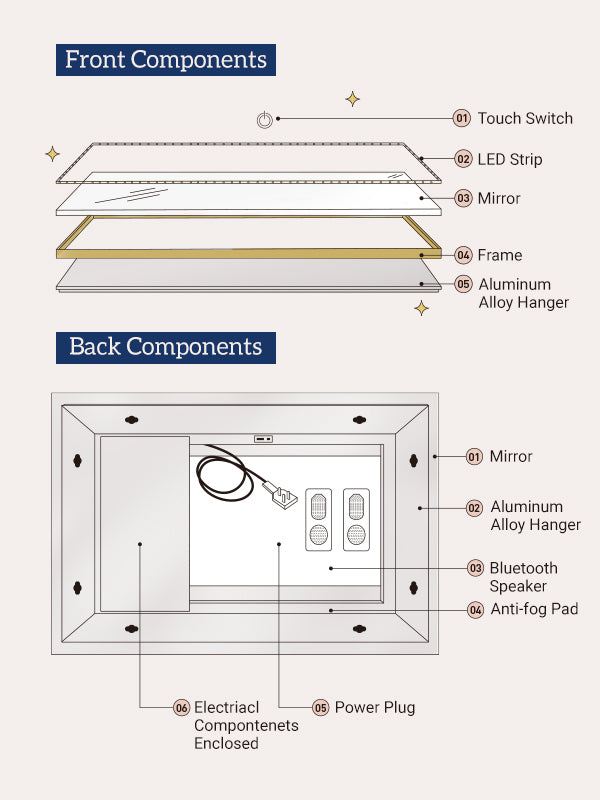 LED Mirror Basics
LED mirrors are mirrors that incorporate LED lights into their design. These mirrors provide even and bright illumination, which is perfect for making up or shaving. LED mirrors come in various sizes, shapes, and designs, and can be mounted on the wall, or placed on the floor or desktop.
LED mirrors are often energy-efficient, as LED lights consume less power and have a longer lifespan than traditional light bulbs. The use of LED technology makes these mirrors a popular choice for those who want to add a modern and sophisticated touch to their homes or businesses. LED mirrors are also easy to install and require minimal maintenance, making them a convenient and practical addition to any living space.
Explore more information in the following articles: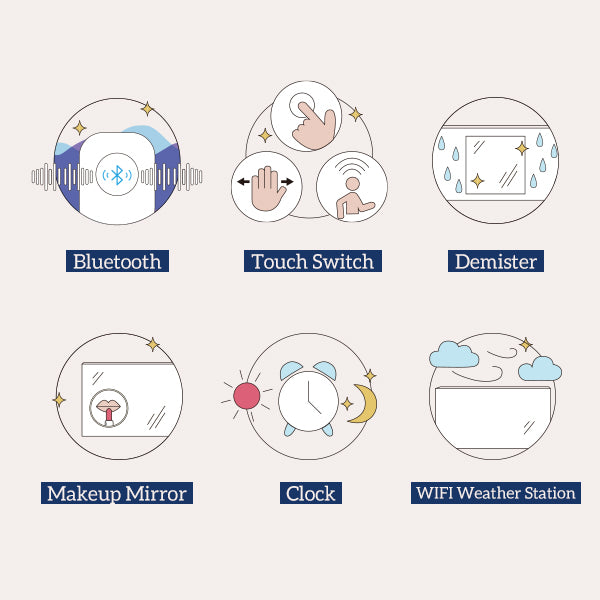 LED Mirror Functions
LED mirrors have a range of functions that go beyond just reflecting your image. One of the major benefits of LED mirrors is the lighting they provide, which can be adjusted to the perfect brightness and color temperature. Some LED mirrors even have built-in dimming features, as well as motion sensors for added convenience.
Other LED mirror functions include makeup mirror, Bluetooth speaker, and defogging, etc. These features can create a unique and luxurious experience, making them perfect for use in bathrooms and dressing rooms. With so many functions and features, LED mirrors are not only functional, but also stylish and sophisticated additions to any living space.
Explore more about these functions in the following articles: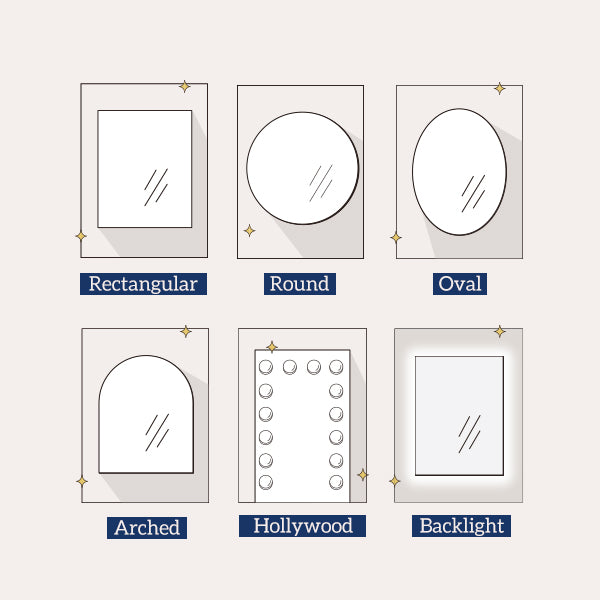 LED Mirror Styles
LED mirrors come in a variety of styles, so you are sure to find one that will complement your home decor. Backlit LED mirrors provide a modern ambience, while frontlit LED mirrors are perfect for a space of personal grooming. Round, rectangular, and oval shapes are available, and you can choose from a range of sizes to suit your specific needs.
LED mirrors are versatile and can be used in many settings, such as bathrooms, dressing rooms, walk-in closets, living rooms, and bedrooms. Whether you are renovating an entire room, or just want to add a unique touch, an LED mirror will be a great addition to your space.
Explore the following articles for more styles: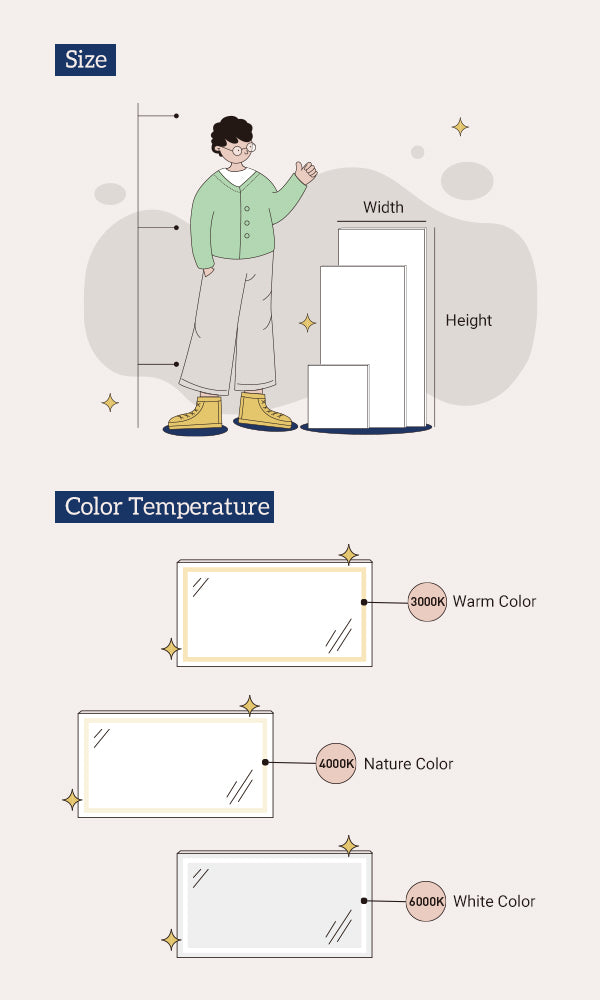 Buying Guide For LED Mirrors
When shopping for LED mirrors, there are a few key factors to keep in mind. Firstly, decide on the size of the mirror you need based on the space available and your intended use. Consider the color temperature to create the right tone for your room and your needs. Look at the luminosity or brightness of the LED lights and check energy efficiency and durability. Finally, think about mounting options and choose one that works for your space. By considering these factors, you can invest in an LED mirror that will bring style and functionality to your living space.
Below you'll find more tips on buying LED mirror: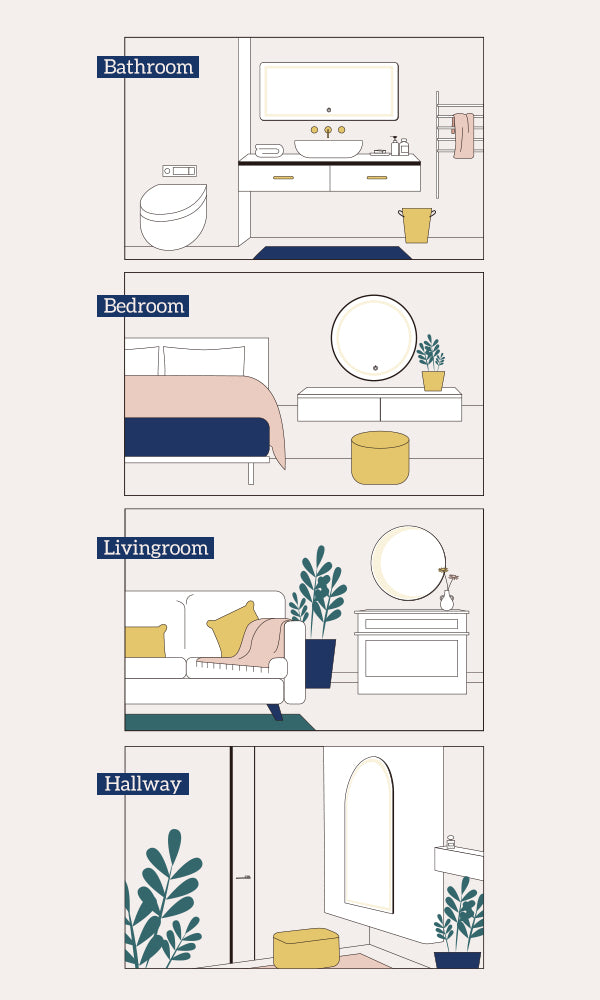 Design Ideas With LED Mirrors
LED mirrors are a versatile and modern accessory that can add a touch of style and sophistication to any space. One popular design idea is to install these mirrors in bathrooms to create a spa-like atmosphere. LED mirrors can also be used in dressing rooms or walk-in closets, where ample lighting is essential for selecting outfits. Floating LED mirrors are perfect for modern and minimalist home designs, while backlit LED mirrors with unique shapes and designs can add interest and intrigue to any room.
In addition, LED mirrors can also be used as statement pieces in living rooms or bedrooms, creating a focal point and adding a touch of glamour to the space. The possibilities for incorporating LED mirrors in interior design are endless, and they can make any space feel brighter and more inviting.
For more ideas, read the following articles: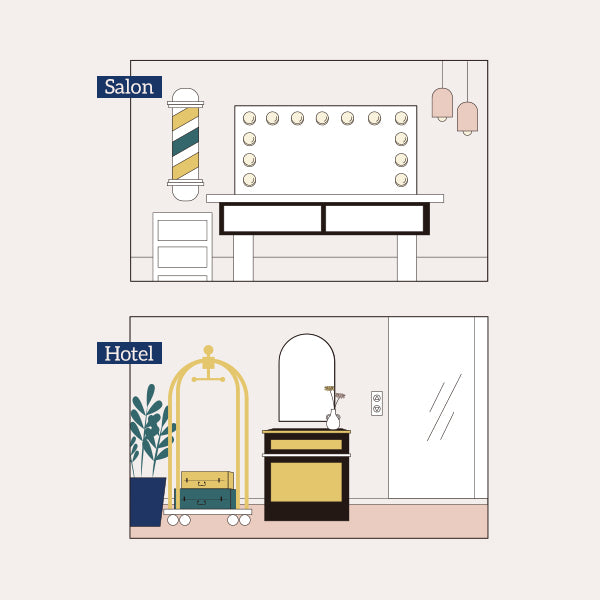 LED Mirror & Business Application
LED mirrors are becoming increasingly popular in business applications due to their versatility and modern appearance. These mirrors are perfect for beauty-related businesses such as salons, spas, and cosmetic stores, where accurate lighting is important to showcase and apply makeup or other beauty products.
Additionally, LED mirrors are useful in clothing stores for customers to try on outfits and see a clear reflection of themselves in bright lighting.
LED mirrors are also perfect for office spaces and conference rooms, providing a modern and sleek appearance while providing ample lighting for meetings and presentations. With their energy-saving properties and long-lasting lifespan, LED mirrors are a smart investment for businesses looking to upgrade their interior design and functionality.
Check these articles for more business application possibilities:
Why Use LED Mirrors
Energy Efficiency
Energy Efficiency LED lights use less power than traditional lighting, which can lead to significant savings on your energy bills over time.
Bright and Even Illumination
LED mirrors offer bright and even illumination, providing the ideal lighting for tasks such as makeup application or shaving.
Versatility
LED mirrors come in various sizes, shapes, and designs, making them versatile and adaptable to any space. They can be wall-mounted or placed on the floor or desktop, giving you the freedom to choose the best option for your needs.
Additional Features
Many LED mirrors come with additional features such as dimmer, motion sensors, magnification, Bluetooth speakers, and demister, making them even more convenient and practical to use.