Discover a stunning collection of 15 unique bathroom mirrors that exude individuality and style. Explore the diverse range of reflective masterpieces and add a touch of personality to your daily routine.
Introduction
Bathrooms have changed from practical rooms to private havens in the world of interior design. And the bathroom mirror is one of the most important parts of this change. Over the years, bathroom mirrors have gone beyond their original purpose of being useful and have become stylish focus points that not only serve a practical purpose but also make homes look better.
In this blog, we're going to learn about the interesting world of unique bathroom mirror trends for modern homes. If you want to update the decor in your bathroom or do a full makeover, these trends will give you a lot of creative ideas and design inspiration.
Unconventional Mirror Ideas
Mirrors have long been loved for their unique ability to reflect light and our own images. But they can also be used in unusual ways in design, which goes beyond their practical use. Imaginative mirror ideas like mirror mosaics that add an artistic flair, old window frames turned into reflective accents, and even mirrored furniture that combines form and function in a seamless way will make you rethink the role of mirrors in your home decor. They will add a touch of uniqueness and charm to every room.
Large Gold Framed Unique Mirror
Image source: Instagram
The gold frame, often adorned with ornate patterns or a distressed finish, adds a touch of vintage charm and grandeur to your surroundings. Its reflective surface not only serves its practical purpose but also amplifies the room's natural light, creating a sense of spaciousness and brightness.
Clover Shaped Mirror
Image source: Instagram
The Clover Shaped Mirror is a delightful addition to your bathroom decor. Its whimsical cloverleaf design brings a touch of elegance and uniqueness to this often-overlooked space. Crafted with precision, it combines both functionality and aesthetic appeal. This mirror not only enhances the visual appeal of your bathroom but also creates a sense of spaciousness and depth. Its sleek, stylish frame complements various bathroom styles, from modern to traditional, making it a versatile choice for adding both character and functionality to your daily routine.
Rustic Rope Mirrors
Image source: Instagram
Add a touch of coastal charm with rustic rope-framed mirrors. They bring a hint of nautical nostalgia and a relaxed ambiance to your bathroom.
Fluted Shaped Bathroom Mirror
Image source: Instagram
The Fluted Shaped Mirror is the perfect addition to your bathroom, offering both functionality and sophistication. Its elegant fluted design adds a touch of timeless charm to your bathroom decor. Crafted with precision, this mirror not only enhances your daily grooming routine but also elevates the aesthetics of your space. The unique shape and intricate detailing make it a focal point in your bathroom, blending seamlessly with various interior styles.
Bear Shaped Backlit Mirror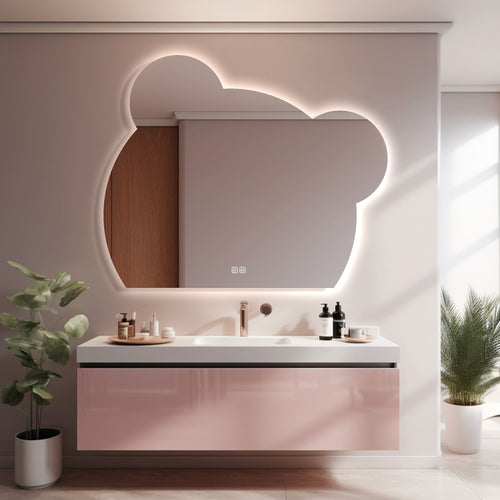 Image source: INYOUTHS LED MIRROR
Add some whimsy and fun to your bathroom with the Bear Shaped Mirror. This mirror was carefully crafted to feature the endearing profile of a bear, perfect for injecting some fun and individuality into your decor. Its practical construction guarantees a dependable mirror for your everyday grooming needs, while its eye-catching form serves as a talking point and source of amusement.
Geometric Statement Mirrors
Image source: Instagram
Geometry meets functionality with statement mirrors in bold shapes like hexagons and circles. These mirrors double as art pieces, infusing your bathroom with architectural allure.
Marble Framed Mirror
Image source: Instagram
The Marble Framed Mirror is a luxurious and sophisticated addition to any room, particularly a bathroom. Its frame is crafted from exquisite marble, showcasing its natural elegance and timeless beauty. This mirror not only serves a functional purpose but also elevates your decor with its opulent design.
Split Mirrors
Image source: Instagram
Split mirrors, divided into multiple sections, add an eccentric twist to your bathroom decor. They offer a playful take on symmetry, creating a visually captivating focal point.
Vintage Vanity Mirrors
Image source: Instagram
Embrace nostalgia with vintage vanity mirrors. These ornate, framed mirrors add a touch of old-world charm to your bathroom, transforming it into a timeless sanctuary.
Textured Mirror Tiles
Image source: Instagram
Achieve an understated elegance with minimalist rectangular mirrors. Their simplicity effortlessly blends with various decor styles, from Scandinavian to modern.
Artistic Frame Mirrors
Image source: Instagram
Turn your bathroom into an art gallery with mirrors featuring artistic frames. Express your personality and style through unique frame designs.
Silver Finish Rectangle Framed Mirror
Image source: Instagram
Crafted with precision, it not only provides a clear and accurate reflection for your grooming routine but also serves as a stylish focal point. The champagne silver finish brings a sense of glamour and elegance to your bathroom decor, creating an inviting and refined atmosphere. Elevate your daily rituals and elevate your bathroom's aesthetics with this exquisite mirror.
Concave Bathroom Mirror
Image source: Instagram
The Concave Bathroom Mirror is a modern and distinctive choice for your bathroom decor. Its unique design features a gently curved, inward-sloping frame that adds a touch of contemporary style to your space.
Hexa Mirror
Image source: Instagram
The hexagonal frame not only serves as a functional reflection tool but also adds a visually captivating element to your decor. Its versatile design makes it suitable for various interior styles, making the Hexa Mirror a trendy choice for those looking to infuse a sense of geometry and style into their living spaces.
Gold Framed Double Mirror
Image source: Instagram
The Gold Framed Double Mirror is a luxurious and practical addition to your living space. This mirror features a stunning dual-pane design, framed with a rich gold finish that exudes opulence and elegance.
Dual Unique Shaped Bathroom Mirror
Image source: Instagram
If you're looking for something modern and unique for your bathroom, consider the Dual Unique Shaped Bathroom Mirror. This mirror achieves its contemporary look thanks to the clever combination of two unique designs.
Conclusion
In conclusion, a decorative mirror does more than just reflect light; it also makes a bold design statement. These mirrors add character and flair to any room, whether they're bear-shaped and cute or frameless and modern. Your bathroom will be transformed into a sanctuary of creativity and relaxation thanks to their clever combination of practicality and originality. Pick up a one-of-a-kind mirror for your bathroom to make a statement and enhance your everyday routine with style.