Framed bathroom mirrors offer a dual advantage of enhancing the aesthetics of the space while providing practical functionality. With a variety of styles, materials, and finishes available, these mirrors can transform the look of any bathroom.
Table of Contents
When it comes to designing a bathroom, mirrors play a crucial role in both functionality and aesthetics. Among the various options available, framed bathroom mirrors stand out as versatile and stylish choices that can elevate the overall design of any bathroom space.
These mirrors not only provide a reflective surface for essential grooming tasks but also serve as captivating focal points that enhance the ambiance of the room. In this article, we will explore the world of framed bathroom mirrors. Whether you're looking to create a traditional, contemporary, or rustic bathroom, framed mirrors offer a multitude of options to suit your personal style and preferences. Join us as we delve into the realm of framed bathroom mirrors and discover how these elegant additions can transform your bathroom into a haven of style and functionality.
Framed Bathroom Mirrors - Types and Styles
When it comes to framed bathroom mirrors, there is a wide range of types and styles to choose from, allowing you to find the perfect mirror that complements your bathroom decor and reflects your personal taste. Let's explore some of the most popular types and styles.
Wood Frames
Image source: Instagram
Wooden frames exude warmth and natural beauty, making them a popular choice for traditional and rustic bathroom designs. They come in various wood types such as oak, pine, and walnut, each offering its own unique grain patterns and finishes.
Metal Frames
Image source: Instagram
Metal frames, such as those made from stainless steel, brass, or brushed nickel, add a touch of contemporary elegance to bathroom spaces. These frames are often sleek and minimalist, perfect for modern and industrial-inspired designs.
Plastic/Composite Frames
Image source: Instagram
Plastic or composite frames offer affordability and versatility. They can mimic the appearance of wood or metal frames while being resistant to moisture, making them ideal for bathrooms with high humidity levels.
Traditional Framed Bathroom Mirrors
Image source: Instagram
Traditional framed bathroom mirrors feature ornate details, intricate carvings, and rich finishes. These mirrors are often associated with classic elegance and are perfect for bathrooms with a vintage or timeless aesthetic.
Contemporary Framed Mirrors
Image source:Instagram
Contemporary framed mirrors embrace sleek lines, minimalistic designs, and clean finishes. They are characterized by a modern and streamlined look, making them a popular choice for contemporary and minimalist bathroom styles.
Rustic Framed Bathroom Mirrors
Image source: Instagram
Rustic framed mirrors often feature distressed wood frames with a weathered appearance, adding a charming and cozy touch to bathrooms. These mirrors are well-suited for farmhouse, cottage, or rustic-inspired designs.
Minimalist Framed Mirrors
Image source: Instagram
Minimalist framed mirrors showcase the simplicity and clean lines. They often have thin frames, sharp angles, and unadorned surfaces, creating a sleek and understated look that fits well with modern and Scandinavian design aesthetics.
Ornate Framed Mirrors for Bathroom
Image source: Instagram
Ornate framed mirrors make a bold statement with their elaborate detailing, intricate patterns, and decorative accents. These mirrors can serve as exquisite focal points, adding a touch of luxury and glamour to bathrooms.
Custom Framed Bathroom Mirrors
Image source: Instagram
Custom framed mirrors offer the ultimate opportunity for personalization. You can choose the frame material, shape, size, and finish to perfectly match your unique style and bathroom design.
Benefits of Framed Bathroom Mirrors
Framed bathroom mirrors offer a range of benefits that go beyond their functional purpose. Let's explore some of the advantages of incorporating framed mirrors into your bathroom design.
Functional Advantages
Image source: Shutterstock
Grooming and Makeup Application - Framed bathroom mirrors provide a clear and well-defined reflection, making grooming tasks such as shaving, hair styling, and makeup application easier and more precise. The frame acts as a boundary, enhancing focus on facial features and ensuring optimal visibility.
Lighting Enhancement - The frame of a bathroom mirror can be designed to incorporate integrated lighting fixtures. This feature eliminates shadows and provides evenly distributed light, minimizing the chances of uneven makeup application or missed spots during grooming routines.
Storage Integration - Some framed mirrors come with built-in storage options such as shelves or cabinets. These additions provide convenient storage space for toiletries, beauty products, or daily essentials, keeping your bathroom organized and clutter-free.
Aesthetic Advantages
Image source: Shutterstock
Visual Expansion - Framed mirrors have the ability to visually expand the space in a bathroom. They reflect light and create an illusion of depth, making the room appear larger and more open. This is particularly beneficial for smaller bathrooms or those with limited natural light.
Decorative Element - The frame of a bathroom mirror serves as a decorative element, adding style and visual interest to the space. It can complement the overall design theme of the bathroom, whether it's a traditional, contemporary, or rustic style, and act as a focal point that enhances the room's aesthetic appeal.
Customization Options - Framed bathroom mirrors offer a wide range of customization options. You can choose from various frame materials, colors, finishes, and styles to suit your taste and match the existing décor. Customization allows you to create a mirror that truly reflects your unique style and bathroom ambiance.
Protection and Durability
Image source: Shutterstock
Edge Protection - The frame of a bathroom mirror acts as a protective barrier for the edges of the mirror, preventing them from chipping, cracking, or getting damaged. This is especially important in high-traffic areas or households with children or pets.
Enhanced Durability - The frame provides structural support to the mirror, making it more resilient and less prone to breakage. It adds stability and safeguards the mirror against potential impacts or accidents, ensuring its longevity and durability.
Innovative Features and Accessories of Framed Bathroom Mirrors
Framed bathroom mirrors have evolved beyond their basic form, offering innovative features and accessories that elevate their functionality and aesthetics. Consider incorporating these elements into your mirror selection.
LED Lighting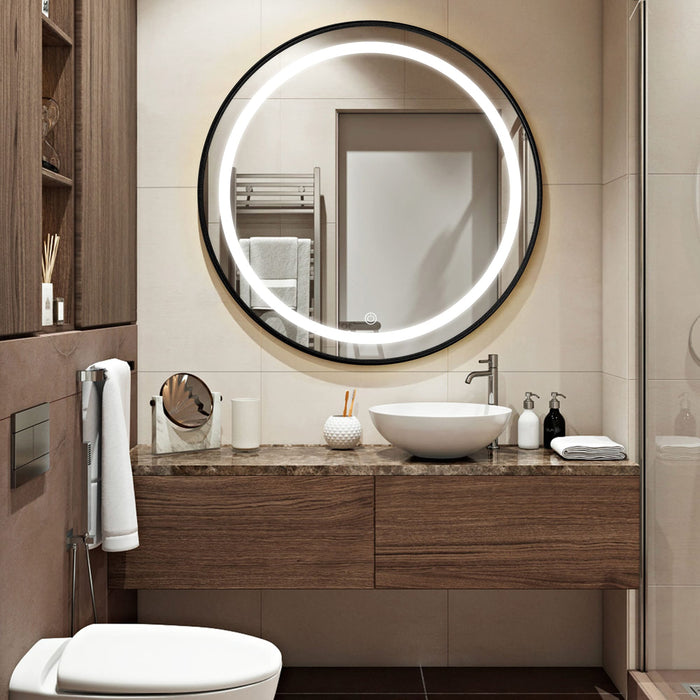 Image source: INYOUTHS LED Mirrors
LED lights integrated into the frame or around the mirror provide adjustable and energy-efficient illumination. Some mirrors offer dimmable lighting, color temperature control, or even motion sensor activation, allowing you to create the perfect lighting ambiance for different tasks or moods.
Bluetooth Connectivity
Image source: Instagram
Mirrors with built-in Bluetooth speakers let you connect your devices wirelessly, allowing you to enjoy music, podcasts, or audiobooks while getting ready in the bathroom. This feature adds convenience and entertainment to your daily routine.
Defogging Function
Image source: Instagram
Fog-free mirrors utilize innovative technology to prevent steam and condensation from forming on the mirror's surface. This ensures a clear reflection even in steamy bathroom environments, eliminating the need for wiping or waiting for the mirror to clear up.
Medicine Cabinets
Image source: Instagram
Some framed mirrors come with built-in medicine cabinets, providing discreet storage space for medications, toiletries, or personal items. These cabinets are designed to blend seamlessly with the mirror, offering a practical and space-saving solution for bathroom organization.
Shelving and Hooks
Image source: Instagram
Mirrors with integrated shelves or hooks offer additional storage options for items such as toothbrushes, hand towels, or decorative accents. These features keep essentials within reach while adding a functional and decorative element to the mirror design.
Touchscreen Controls
Image source:Instagram
Advanced mirrors feature touchscreen controls embedded into the mirror surface, allowing you to adjust lighting, control smart features, or even access weather updates or news headlines. This interactive element adds a futuristic and convenient touch to your bathroom experience.
Customizable Frames
Image source: Instagram
 Some manufacturers offer customizable frames, allowing you to choose from a range of materials, colors, and finishes to create a mirror frame that perfectly matches your bathroom decor and personal style. This level of customization ensures a unique and tailored look.
Anti-Fog Coatings
Image source: Instagram
Mirrors with anti-fog coatings eliminate the need for a separate defogging function. These coatings prevent fog from forming on the mirror's surface, ensuring a clear reflection even in steamy conditions.
Backlit Mirrors
Image source: Instagram
Backlit mirrors feature built-in lighting behind the mirror surface, creating a soft and diffused glow. This provides ambient lighting and adds a modern and luxurious touch to the bathroom. The backlighting can be customized in terms of intensity, and color, or even programmed to change according to your preferences.
Conclusion
In conclusion, framed bathroom mirrors offer a combination of functionality and style to enhance your bathroom space. With a wide range of design options and innovative features available, you can choose a mirror that fits your budget, complements your bathroom decor, and meets your specific needs. Whether it's incorporating smart technology, integrated storage, or customizable frames, these mirrors elevate the bathroom experience by providing clear reflections, ample lighting, and practical solutions. By considering design considerations and budget considerations, you can select a framed bathroom mirror that not only serves its purpose but also becomes a visually appealing focal point in your bathroom.