We present 15 inspiring bathroom vanity mirror ideas that have the power to transform your bathroom into a stylish and sophisticated space. Each idea is carefully selected to elevate the overall ambiance and functionality of your bathroom.
Step into a world of reflection and allure with our array of inventive ideas for stylish bathroom vanity mirrors. These mirrors aren't just reflections of your visage; they're reflections of your space's personality. Channeling light, enhancing ambiance, and amplifying the room's aesthetic, these mirrors transcend mere functionality. From chic minimalism to vintage elegance through traditional and modern concepts, they serve as artistic accents that redefine the bathroom's essence. Immerse yourself in the world of vanity mirrors and witness how these seemingly humble adornments wield the power to shape your space with charisma and charm.
Timeless Traditional Bathroom Vanity Mirror Designs
Experience the elegance of eras gone by with our collection of timeless traditional vanity mirror designs. These mirrors evoke the charm and sophistication of classic aesthetics, adding a touch of nostalgia and refinement to your space. Heighten your decor with these exquisite pieces that transcend trends and stand as enduring symbols of style.
Classic Rectangular Mirrors
Image source: Instagram
Opting for classic rectangular mirrors brings a sense of timelessness to your space. These shapes effortlessly blend with various decor styles and provide balanced symmetry, making them versatile and visually pleasing choices. Whether placed above a vanity or as standalone accents, they exude elegance and contribute to a well-balanced aesthetic.
Framed Mirrors with Simple Designs
Image source: Instagram
Selecting framed mirrors with ornate or simple designs offers an incredible way to amplify your space. Ornate frames add a touch of grandeur and intrigue, while simple designs such as oval mirrors with clean lines or wooden frames with a natural finish bring understated elegance. Either choice enhances the mirror's presence and elevates your decor with a captivating focal point.
Double Vanity Mirrors for Larger Bathrooms
Image source: Instagram
Double vanity mirrors in larger bathrooms can have several positive effects. They enhance the visual appeal by creating a balanced and symmetrical look. The mirrors also increase the sense of space and brightness, making the bathroom feel larger and more open. Additionally, they provide practical functionality by allowing multiple people to use the mirrors simultaneously, making daily routines more efficient. Overall, double vanity mirrors are a stylish and functional addition to larger bathrooms.
Traditional Materials like Metal Frames
Image source: Instagram
Incorporating traditional materials like wood or metal frames into vanity mirror ideas adds a timeless and classic aesthetic to the space. These materials bring warmth, texture, and durability, creating a sense of authenticity and charm. Traditional frames can complement various interior styles and provide a cohesive look, blending modern functionality with a touch of nostalgia.
Modern Bathroom Vanity Mirror Concepts
Modern vanity mirror concepts encompass innovative designs that blend sleek aesthetics with functional elegance. These mirrors often feature minimalist frames, integrated lighting, and smart technology, offering both style and convenience. Whether in bathrooms or dressing areas, modern vanity mirrors elevate the visual appeal of spaces while serving practical purposes.
Minimalistic Frameless Mirrors
Image source: Instagram
Minimalistic frameless mirrors epitomize simplicity and elegance. With no distractions from ornate frames, these mirrors create a clean and modern look that effortlessly fits into various interior styles. Their sleek design allows them to blend seamlessly into any space, reflecting light and visually expanding the room. Frameless mirrors are an embodiment of understated beauty and functional minimalism.
Geometric-Shaped Mirrors 
Image source: Instagram
Geometric-shaped mirrors, whether round, square, or hexagonal, introduce a captivating visual dynamic to interior decor. These unique mirror designs break away from traditional rectangular forms, adding an element of creativity and intrigue to any space. Their clean lines and distinct shapes create a modern and organized feel, making them versatile pieces that can either stand out as focal points or harmonize with existing design elements.
LED-Backlit Mirrors for Enhanced Lighting
Image source: Instagram
LED-backlit mirrors offer a brilliant fusion of functionality and style, providing enhanced illumination while elevating the aesthetics of a room. The built-in LED lighting around the mirror not only offers practical brightness for grooming tasks but also adds a soft, ambient glow that complements the overall ambiance. These mirrors are efficient, space-saving solutions that cater to both practical needs and contemporary design preferences.
Mirrors Integrated with Bluetooth, Touchscreen, and More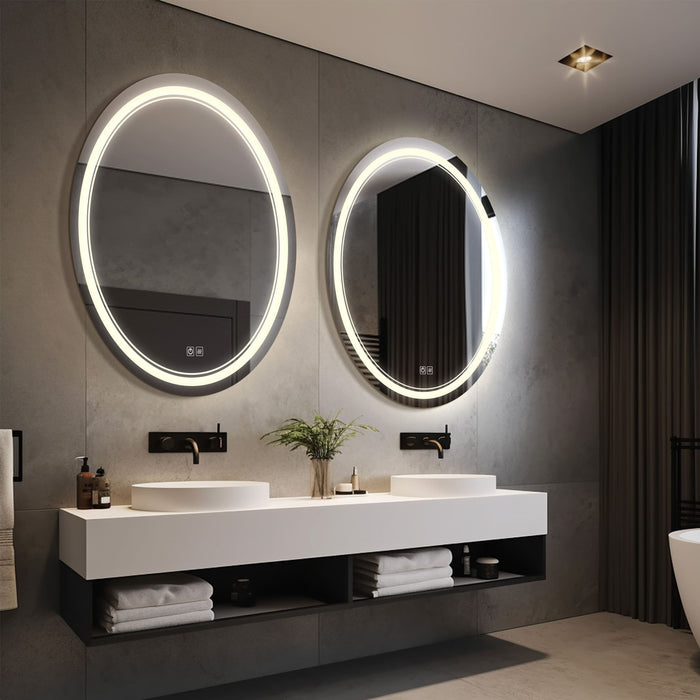 Image source: INYOUTHS LED Mirror
The best thing about mirrors integrated with Bluetooth, touchscreen, and more is the effortless convergence of modern technology with everyday functionality. These mirrors not only reflect your image but also serve as interactive hubs. With Bluetooth connectivity, you can sync devices for entertainment or calls. Touchscreens offer easy control and access to information, making daily routines more streamlined. It's a seamless blend of reflection and innovation, enhancing both appearance and convenience.
Unique Bathroom Vanity Mirror Ideas
Discover a world of creativity and style with unique vanity mirror ideas. From unconventional shapes to innovative functionalities, these ideas redefine the mirror's role in interior design. Improve the quality of your space with mirrors that reflect not only your image but also your distinct personality and aesthetic preferences.
Mirrors with Integrated Storage Shelves or Cabinets
Image source: Instagram
Mirrors with integrated storage shelves or cabinets combine practicality and aesthetics seamlessly. These dual-purpose pieces not only reflect light and enlarge the space but also provide a discreet solution for organizing essentials. By merging mirrors and storage, they maximize functionality while maintaining a clutter-free appearance, making them a smart addition to any room.
Vintage or Antique Mirrors for a Retro Look
Image source: Instagram
Opting for vintage or antique mirrors brings a touch of nostalgia and charm, instantly infusing a space with a retro allure. These mirrors carry a unique history, adding character and depth to your decor. Their ornate frames and aged glass capture the essence of a bygone era, creating a captivating focal point. Incorporating vintage or antique mirrors is a surefire way to achieve an authentic and captivating retro aesthetic.
Artistic or Decorative Mirrors as a Focal Point
Image source: Instagram
Gaze into a world of imagination with artistic or decorative mirrors, as they transcend mere reflection to become portals of creativity. These mirrors aren't content with blending in, they demand attention. With frames resembling intricate sculptures and designs that tell stories, they orchestrate a symphony of aesthetics. Hanging one in a room is like adorning a space with a masterpiece, where every glance unveils a new layer of beauty and intrigue.
Mastering Mirror Placement and Styling
Unlock the art of interior enhancement by mastering mirror placement and styling. Discover how the strategic arrangement of mirrors can transform spaces, amplifying light, creating illusions of depth, and imbuing rooms with an enchanting allure. Dive into the realm of design possibilities where mirrors go beyond mere functional items, becoming powerful tools for shaping ambiance and aesthetics.
Single-Centered Mirror above the Vanity
Image source: Instagram
Elegance finds its center with a single mirror poised above the vanity. This focal point isn't just a reflection; it's a statement. Like a maestro leading a symphony, the centered mirror orchestrates harmony in design, drawing attention and symmetry effortlessly. A touch of simplicity that radiates sophistication, turning every grooming routine into a graceful ritual.
Pair of Mirrors for Double Vanity Setups
Image source: Instagram
A duo of mirrors graces double vanity setups with a balanced dance of functionality and aesthetics. Like perfect partners, these mirrors frame the space, offering synchronized reflections and a harmonious visual rhythm. The pair transforms the morning ritual into a shared experience, enhancing the practicality of the setup while maintaining a symphony of style.
Horizontal or Vertical Orientation Based on Space and Preference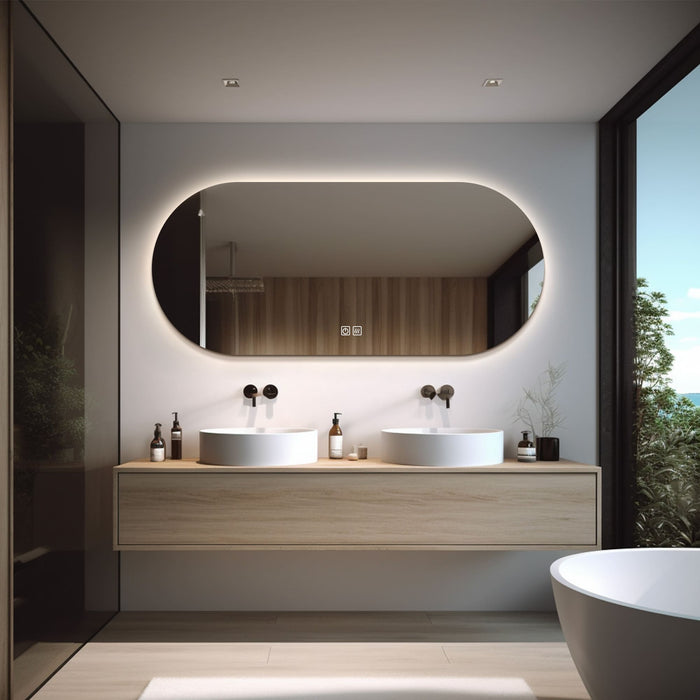 Image source: INYOUTHS Lighted Bathroom Mirrors
The impact of choosing between horizontal or vertical mirror orientation based on space and preference is profound. Opting for a horizontal layout can widen and expand the perceived space, while a vertical orientation adds a touch of grandeur and height to the room. This decision not only influences the room's visual dynamics but also reflects the dweller's unique style and design sensibilities, playing a pivotal role in creating a space that feels perfectly tailored and visually pleasing.
Mixing and Matching Different Mirror Sizes and Shapes
Image source: Instagram
Unleash your creativity by mixing and matching various mirror sizes and shapes. This design approach infuses your space with intrigue and visual depth. The interplay between different mirrors creates a captivating mosaic that reflects not only light but also your unique personality. By harmonizing diverse elements, you craft a narrative of style that's uniquely yours, transforming walls into a gallery of individuality.
Crafting Personalized Sanctuaries with Vanity Mirrors
In the world of bathroom vanity mirrors, each design is a reflection of personal style and space's character. From traditional to modern, a mirror isn't just functional; it's an expression of creativity. Mixing shapes, materials, and technology reveals the art of design. Amid these choices, individuality shines, and mirrors should integrate seamlessly into a bathroom's design. The right mirror choice enhances a space, playing with light and dimension. Ultimately, mirrors become part of a unique narrative, transforming bathrooms into personalized havens of style and charm.